Profession
National
Thought Leaders
Tom McCallum, tax expert and practice mentor, dies at 70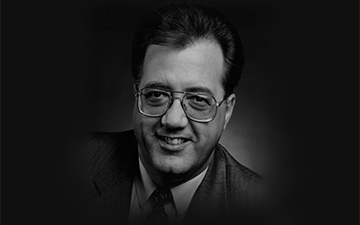 Canadian accountant, seminar leader wrote tax strategy column for 25 years
Obituary, January 10, 2019 — The accounting profession across Canada is mourning the loss of Tom McCallum, FCPA, FCGA, CBV, who passed away in Oshawa on December 6, 2018, after an extended illness. McCallum, 70, was highly regarded among his peers as a mentor who gave willingly of his time, as a seminar leader who made taxation interesting and even fun to learn, as an accomplished author, and as a successful practitioner. "With his invaluable tax expertise, he was well respected and renowned with students and members alike," says Shirley Tom, FCPA, FCGA, an Oakville, Ont. based practitioner.
McCallum edited CGA Magazine's monthly Tax Strategy column for 25 years, as well as writing a newsletter on business valuation for CGA-Canada that was distributed to all practitioners, and a personal quarterly newsletter to his clients and members of the Association. "He was a great author. Not everyone has the ability to both practice and write — but Tom did this beautifully, particularly given his command of the English language," says Dawn McGeachy, FCPA, FCGA, a principal with Colby McGeachy Professional Corporation in Almonte, Ont.
McCallum conducted more than 1,300 tax seminars in Canada, the United States and Barbados, addressing a variety of technical topics that included income tax updates, estate freezes, taxes at death, Section 85 rollovers, corporate re-organizations, business succession, and business valuation, among others. McCallum did more than teach at his seminars; he asked the leading questions to guide attendees to the correct answers. His depth of tax knowledge was exemplary and many members were in awe, says Tom.
"He just knew his stuff inside and out," says Richard Sams, FCPA, FCGA, of Hamilton. "He was funny — a great speaker — and he could get a crowd of accountants laughing, based on true stuff," he adds.
"Tom literally advised thousands of practitioners during his training sessions and updates on tax. He always had relevant stories and was always pointing out the pitfalls and traps of certain legislation — all of it sprinkled with humour and sage advice," recalls McGeachy. "Many of the things I heard him say during these sessions would come back to me when I was faced with one of those circumstances in real life and I could hear his voice ringing in my head and remember to be careful. This, I believe, was his greatest contribution," she says.
Lim Lum, CPA, CGA, a public practitioner in Pickering, Ont., also praises McCallum's presentations. "When I attended Tom's seminars over the years, he was always cheerful. He was always encouraging. He was always helpful. And he was always very friendly. He was definitely, by far, the most interesting and engaging instructor on any tax course in my experience," he says.
McCallum, who wrote several courses in CGA-Canada's Tax Professional Library, often served as the CGA spokesperson to address the Association's position after provincial and federal budgets.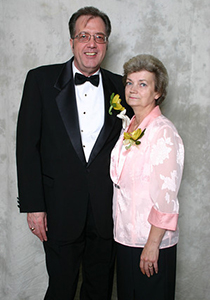 Tom and Mary McCallum.
Certified General Accountant who made a difference
McCallum, who was president of the Certified General Accountants of Ontario in the fiscal year 1998-99, had many fine qualities, says Michelle Causton, FCPA, FCGA of Nipissing, Ont, who served on the CGA Ontario executive when McCallum was president and succeeded him in that position two years later.
"The one that encapsulated all others was his genuine affection and respect for other folks. He had the rare ability to vigorously argue his point without ever demeaning the other person's point of view or belittling his opponent. He enjoyed a spirited debate and took his defeats the same way he took his victories, with quiet dignity and a sense of humour," she says. "Not that he gave up easily — he would patiently and persistently raise issues that he felt important for the profession. His tireless efforts made the Association better and helped forge the path that would result in unification of the profession," Causton adds.
In recognition of McCallum's accomplishments, CGA-Canada honoured McCallum in 2008 during their centennial anniversary as one of "100 CGAs who have made a difference" to their organization since 1908.
Born James Thomas McCallum in Winnipeg in 1948, he began his career as a tax accountant in 1967. After graduating from high school in Kenora, Ont. and working in a gold mine in northern Ontario for nine months, he headed west to Lethbridge, Alberta and accepted a job with an accountant in an H&R Block tax office.
In 1969, McCallum moved to Vancouver to work directly for H&R Block, and then the company transferred him to Toronto the following year. Although McCallum initially planned to move back west, that aspiration changed when he fell in love with Ontarian Mary Maidansky, with whom he had a long and successful marriage. The couple, who lived in Whitby, just east of Toronto, had three children together. Mary predeceased Tom in February, 2017.
McCallum further burnished his professional credentials by establishing his own income tax service by 1975, in the wake of major federal tax reforms in 1972 that created a lot of work for tax accountants in Canada. He earned his CGA designation in 1982. He was awarded a CGA Ontario life membership in 1990 and CGA-Canada life membership in 1993, and also received both the Toronto Chapter Distinguished Service Award and Ontario Distinguished Service Award. McCallum was also an expert in business valuation. He earned his Chartered Business Valuator (CBV) designation in 1993, becoming one of the first CGA practitioners in Canada to earn that credential.
McCallum gave back to the CGA profession in many ways. He began serving in the Toronto chapter of CGA Ontario shortly after earning his designation and rose to become its chapter chair in 1989-90. From there he was elected to the provincial CGA board, serving with distinction on nearly every committee, including Corporate Finance, Nominations, Discipline, and the Executive Committee, among others, on his rise to provincial president in 1998.
Forward Thinking
Upon being chosen the president of CGA Ontario, McCallum publicly marvelled how an individual from an impoverished neighbourhood in Winnipeg could seize the opportunities given him to rise to such a lofty position of influence. He cited three accomplishments that he was most proud of during his tenure as provincial president and the year prior as executive vice-president. He pushed for the 25-year membership award during his year as executive VP; then as president changed the theme of what had previously been referred to as a commencement, to an admission to the profession.
"It wasn't the conclusion of something, but rather the beginning of something. That was the message it was supposed to convey. You weren't just joining an Association, you were becoming a member of a profession, and there are certain responsibilities that go with that. I still think that's the best thing I did, along with the 25-year awards," McCallum said in a 2008 interview with this author.
McCallum was also a strong advocate for gender equality rights, speaking out strongly in favour of women's rights.
McCallum also served on the executive of CGA-Canada between 1996 and 1998, and joined the national organization again between 1999 and 2002, after his tenure as president of CGA Ontario. There he served on several committees, including the International Committee, Public Practice Committee, and Tax Policy Committee, as well as the committee that established CGA-Canada's new governance structure.
Even after McCallum's time on the national board ended, he regularly attended Association events and meetings, to lend his support. A passionate advocate for CGA full public practice rights, McCallum would see his dream become a reality when the 2014 professional accounting merger entrenched a unified profession. "We, the directors of the various boards and the staff and the members, re-defined who we were — not second tier accountants, bean counters or bookkeepers, but trusted professionals on par with any other," says Causton.
"Behind it all was Tom. He inspired loyalty and pride in fellow CGAs. Leading, as the best do, by example," Causton stresses. "He wanted us to stand tall, he wanted us to be proud CGAs. He wanted us to understand the accomplishment it was to be a certified general accountant," recalls McGeachy.
Sams notes that McCallum was an innovator who was always thinking. "He would be able to look at things from a different angle than anybody else…and yet there was a kernel in there that we could build on."
But perhaps more than his technical accomplishments, it was McCallum's passion and dedication for helping fellow CGAs — both experienced colleagues and newly minted members — that endeared him to his colleagues. He established a toll-free phone number, on his own initiative and as a personal service, to allow CGAs from across Canada to speak to him directly on taxation, business valuation and other related matters. He also hosted CGA Ontario's online public practice discussion list (PPDL), using both forums to provide insightful responses and detailed analysis that would help his peers.
"Tom would take anybody's call," says Everett Colby, FCPA, FCGA, a principal with Colby McGeachy Professional Corporation. "He always acted as a teacher - he would never just give you the answer. He would always, in a sense, teach you how to find the answer yourself."
McCallum's colleagues also admired his humanity. "It didn't matter who he met. If he had met you before, somehow he always remembered your name, and he would likely remember the name of your spouse. He just had a way, a knack of doing that. He always made you feel like you were the only person that mattered when he spoke to you," says Colby.
Causton has similar memories. "He always remembered people – their names, their interests and their issues. He extended this interest and courtesy to fellow members, business associates and to the folk whose paths he crossed during his travels," she says.
Shirley Tom recalls that when she established her own practice in 2005, she approached McCallum for his assistance to value a book of business to purchase, and that he was instrumental in guiding her through that process. "He broadened my appreciation of tax and provided me with the confidence to deal with many client issues. Tom was my go-to resource for tax questions — and for many practitioners as well," she adds. "If I didn't know Tom, my practice would not be at the level it is now," says Lum, who McCallum mentored over the years since Lum established his practice in 2002. "In the early days, sometimes I would call him three or four times a day. Because of him, I was not afraid to take on clients with complicated tax situations. I owe the growth of my practice to him. He was very encouraging and wanted me to do well in my practice," Lum adds.
Another favour McCallum did was to introduce Lum to practitioners from all across the country that he thought could help him, and Lum notes that those practitioners respected McCallum so much, they were extremely willing to help. "I don't know anybody else who could have had a national network all across Canada like Tom," Lum says.
"Tom was generous with his time. He loved his family, his profession and his friends," Causton says.
"He was always ready with a good laugh. He loved a joke. He adored Mary and the two of them were often the life of a CGA function. They were good people and we're going to miss them both," says Sams.
McCallum's vast knowledge extended beyond his professional expertise in tax, accounting and business valuation. He had a variety of outside interests and passions, including music and sports. McCallum was a devoted fan of the Canadian Football League, and season-ticket holder for the Toronto Argonauts. He also enjoyed the music of Elvis Presley and several years ago made a family trip down to Presley's Graceland estate in Memphis, Tenn. "His ability to engage people, to genuinely care about folk, his kindness and humour, along with that storehouse of knowledge, made him a fabulous dinner companion," Causton recalls.
Jeff Buckstein, CPA, CGA, is an Ottawa-based business journalist.