Profession
National
Management
CPA Standoff: Accountants question the motives behind national accounting rift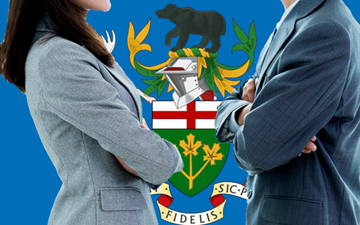 The lack of consultation with the wider membership on its split from CPA Canada has led to accusations that the dispute is a power grab by CPA Ontario
Note: This is the fourth article in a five-part series.
OTTAWA, October 13, 2023 – With little information or member consultation in the CPA standoff between the national and two provincial accounting bodies, chartered professional accountants are questioning the motives of CPA Ontario. In its announcement to the profession, Canada's largest provincial regulator of CPAs declared that "the size and complexity of Ontario's economy is unique in Canada.
"The critical role CPAs play in safeguarding it demands responsive, streamlined and efficient management of their professional body. This decision will enable CPA Ontario to better protect the public, serve members and students, and advance the profession by being more nimble and innovative."
Asked by Canadian Accountant to elaborate on that statement, Carol Wilding, president and CEO of CPA Ontario, said the organization needs the ability to move quickly and make its own decisions.
Terminating the original agreement would strengthen CPA Ontario's ability "to ensure that our members and students meet those high standards. It will help the student faster in areas like audit quality, artificial intelligence. These are things that we as a provincial body need to be able to move on, and we need to do that in the context of protecting the public," she added.
But many members are upset over having not been consulted on this decision before the fact.
"I very much question whether the Ontario Council has the moral licence to engage in the actions that they have undertaken without consulting the members," says Steven Salterio, FCPA, FCA, Smith Chair of Accounting and Auditing at Queen's University's Smith School of Business in Kingston, Ont. Salterio adds that this lack of a consultation process makes it very difficult for provincial members to understand CPA Ontario's rationale for wanting to separate.
"We certainly recognize and appreciate that this decision came as a surprise to many members," acknowledged Wilding. But, she noted, the decision was made by an elected CPA Ontario Council, plus four appointed representatives from the Ontario government, who had the authority to make such a decision.
The discussions with CPA Canada were approached "with a real discretion, because we did not believe that it was in the best interests of the profession to be negotiating in public, or to be debating issues in an open forum or through the media," explained Wilding.
During the 18 month transition period, CPA Ontario is actively engaging its members, but there will be no member votes on this issue, she added.
Accusations of a power grab over governance
Another concern being voiced is whether the decision made by CPA Ontario and the CPA Quebec to withdraw from the Collaboration Accord might be about a dispute over control on the CPA Canada board.
There are currently eight elected directors across Canada, two from Ontario, two from Quebec, one each from Alberta and British Columbia, with Manitoba and Saskatchewan sharing a member, and the Atlantic Provinces, together with Bermuda, having one member. The remaining four members are selected by the Board. Two of them are public directors, selected through an application process, and the other two are the chair and vice-chair, who are members of CPA Canada.
"I don't think there's any huge split on a specific accounting issue. It's just a power grab," said Karim Jamal, FCPA, FCA, a professor in the Department of Accounting and Business Analytics at the University of Alberta in Edmonton. He believes that CPA Ontario and the Quebec CPA Order want a greater ability to control the CPA Canada agenda and budget, and that they have an argument to do so.
"Since Ontario and Quebec are collecting a disproportionate amount of the budget of CPA Canada from their members, it makes sense that the bigger provinces should have a bigger say in the decision making of CPA Canada," he explained.
"What is really important to understand is that we are not seeking outsized influence or control," said Wilding. "We always have been and continue to be committed to a governance process and arrangement that reflects the diversity across Canada where no one member in the profession has outside control or veto rights."
"There's a lot of misinformation about Quebec and Ontario wanting to control the board of Canada [through] a bit of a power grab," says Geneviève Mottard, president and CEO of l'Ordre des comptables professionnels agréés du Québec (CPA Quebec). "That's absolutely not the case. We wish to have a party to work with that's going to respect [our] four core principles — and especially in Quebec, allow us to respect our legislation."
Richard Olfert, FCPA, FCA, chair of the board of CPA Canada, reiterated that one of the principles of CPA Canada is that there should not be a path to control or veto by any provincial bodies. "We saw that as a possibility in some of the discussions that were being held and so we raised that concern amongst all of the provinces," said recently.
He also said that "Ontario and Quebec have not proposed that specifically."
Olfert said the arrangements CPA Canada has with CPA Ontario mirror those of the other provinces, territories, and Bermuda through the Collaboration Accord, and so all of those jurisdictions must agree to any changes.
"I want to overcome the illusion that there's a direct CPA Canada – Ontario discussion that can resolve all conflicts," he stressed.
Jeff Buckstein, CPA, CGA, is a freelance business journalist in Ottawa. Image: iStock composite. Read the entire CPA Standoff series:
Part One: CPA standoff: Ontario government sticks to sidelines in governance dispute.
Part Two: CPA Standoff: Financial transparency a key issue in national accounting rift
Part Three: CPA Standoff: Unique regulatory status of CPA Quebec complicates accounting rift
Part Four: CPA Standoff: Accountants question the motives behind national accounting rift
Part Five: CPA Standoff: Why haven't the other provincial bodies joined the accounting rift?